Our Exciting New Lifestyle Experiment Is Finally Here!
A while ago I wrote about how living small affords you the freedom to live large. At the end of the post I alluded to our next lifestyle experiment and now we're finally in a position to not just tell you about it, but show you.
I've been mulling over this idea of downsizing to the bare bones for a while now, but Sporty has always been a little reticent. I can't blame her, I did a poor job of selling my idea by calling it 'student digs'. But then I happened upon this article on BBC.com and that convinced her. Finally.
Living With Other People's Stuff
When we first downsized in 2008 we thought we'd hit on a clever plan by renting furnished apartments. Something wasn't right though and because we're sometimes slow learners, it took us almost eight years of living with other people's stuff to figure out the problem.
While we personally had dramatically reduced the number of things we owned, we were still stuck with other people's clutter. Every time we moved into a new place, a new tug of war ensued. We didn't want the TV or the microwave or the standing lamps or the super impractical creme coloured rug in the living room or the…you get the picture.
We just wanted the basics. Our new landlords weren't happy and understandably so. If their clutter wasn't in our apartment they'd have to find somewhere else to store it. You could literally see the cogs turning as they weighed up our request.
Invariably we'd end up compromising. They'd take the big stuff like the TV and so on, leaving us with all manner of smaller bits and pieces that we'd then have to stash in places we'd much rather have left empty.
Minimalism 2.0
The other problem is that Cape Town has been commandeered by the Airbnb mafia, which means longterm furnished lets are almost impossible to find and the ones that are available are ludicrously overpriced. We had no option but to implement Minimalism 2.0 (previously known as Operation Student Digs).
The idea was simple. Find the cheapest unfurnished apartment possible and kit it out with only the bare minimum to ensure comfort without clutter. We hit the jackpot on our very first viewing. Our new place is everything we'd hoped for and more.
We moved on Friday and what follows is a series of photos depicting the move as well as our Minimalism 2.0 apartment.
How (Some) Minimalists Move
Sporty is German and I'm creative. If it were up to her our move would have been a well orchestrated production beginning on Monday of last week. Me, I'm of the opinion that you should leave things to the last possible minute. In my defence, while my approach looks disconcerting midway through, the end result is undeniably spectacular.
Yip, it's a mess! And you're not even seeing what's behind me.
In spite of the mess, Sporty still manages to keep a handle on our budget.
That's what was behind me earlier, only now it's not as messy. 
This is what we ended up with. As I said, undeniably impressive.
Our New Apartment
Our new place is super sweet and totally has our number. It's bright and breezy and even gets a little bit of afternoon sun, a rare win with cheaper places. It's a little bigger in size than the last one, coming in at around 45 square metres (485 square feet) and has a separate kitchen (bonus) and a really spacious bathroom (even bigger bonus).
Essentialism
In his book Essentialism: The Disciplined Pursuit of Less, Greg McKeown highlights the benefits of doing only those things that really matter. His message is simple: ditch the busy work and focus instead on the tasks that yield results. 
Sporty and I are using a similar approach with our living space. We're no longer just buying stuff because that's what we always did. We're giving careful consideration to each and every item that enters our home, weighing up the potential benefits, taking into account actual necessity and of course, the maintenance requirements.
Here's a silly example. We've always had a glass for our toothbrushes, because that's what you do, right? You put your toothbrushes in a glass. But then you need to buy a glass and clean it. We've taken instead to standing our toothbrushes up against the window and it works perfectly.
As an aside, I saw a huge improvement in Sporty's workaholic tendencies after reading just the first chapter of this book. If you're always overworking or know someone who does then I highly recommend this book. I've never had a problem with working too much, but apparently some people do. Weird, I know.
The building entrance, replete with flourishing Soleirolia aka peace-in-the-home.
The courtyard in front of our apartment.
Sporty in the kitchen making a a smoothie bowl (more on that in the next pic).
Sporty making her first smoothie bowl in eight months. Ermahgerd, frozen bananas!
Sporty's sprout farm on our new fridge with actual freezer. Ermahgerd, frozen bananas!
The cupboard above the sink aka Barbara's kennel.
Barbara the vacuum cleaner.
The cupboard under the sink aka where the bins live. Joshua Becker would be really impressed.
Using a drying towel to stack dishes = less clutter.
The Tupperware cupboard (we know where all the lids are).
The grocery cupboard (most of our food is in the fridge).
Two cups, two bowls, some tea and a few extras.
The cutlery drawer (two dessert spoons, two teaspoons, one of everything else).
The cloths and grocery bags drawer.
The electronics and stationery drawer.
The junk drawer (because every house should have one).
The bathroom and bike storage unit.
The work area aka Sporty's budget cockpit (note the receipts being inputted).
The heavenly view from our bed.
The obligatory timed shot (with mugs in hand).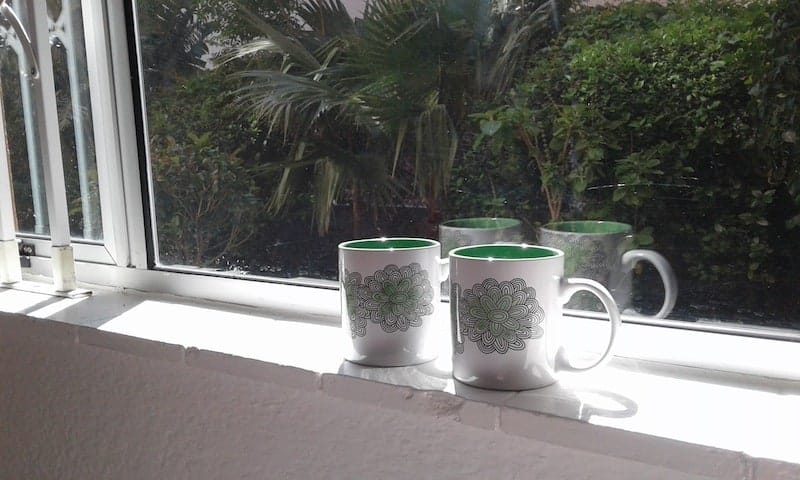 Arty shot of our two mugs on the windowsill.
Our closet is much roomier than the last one.
And there you have it. So far we've bought a bed, a duvet, two pillows, a fridge, a vacuum cleaner, a kettle, two mugs, two bowls, a vegetable knife, two dessert spoons, two teaspoons and a breadboard. We already had the Tupperware. The only thing left to get still is a duvet cover and two pillow cases.
Already our lives feel easier and more spacious. One of the first advantages we noticed is that we can only ever have a small amount of dishes to wash at one time. Over the next week or two we'll be going through our stuff to see if there's anything we can get rid of.
[Tweet ""Simplicity is the ultimate sophistication." —Leonardo da Vinci"]